Marissa Adler

Good Afternoon to All,
It has been a short week and I just returned from attending IRSAC meetings in Washington D.C. However, I do want to take a moment to mention that Ali's assistant Carol has moved on and Samantha Braun has signed on as our new Marketing and Social Media Specialist. Sam is a great addition to the SFS Team and will serve as Ali's new right hand.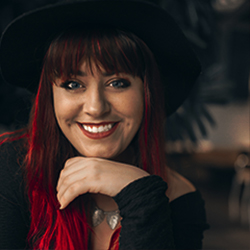 She has been working in the design and marketing industries for about 10 years with high-end brands and companies like Embryolisse, Glamcor, as well as marketing for international artists AJ Crimson, James Vincent, Marlena Stell, Jenn Karsner, Zachary Domingo, and Danessa Myricks. She carries strong passions for photography, design, networking, management, and travel.
Her additional qualifications include a professional certification in AutoCAD, an extensive fluency with Photoshop and Adobe products, running her own photography business on the side, and freelance branding for small businesses.
Samantha is new to the area and resides in Stuart, FL with her family and her two dogs.
Until Next Time,
C YA,
Jeffrey "fully staffed once again" Schneider