SFS Giving Back To The Community and Beyond
Little Treasurers – Pediatric Palliative Care Program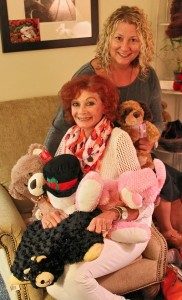 Pediatric Hospice Care Program – A specialized pediatric team enhances the quality of life for children with a terminal diagnosis who have the life expectancy of six months or less.
Partners in Care – Together For Kids (PIC-TFK) -Offers specialized palliative care support services for chronically ill children and adolescents up to the age of 21. Treasure Coast Hospice provides these services in collaboration with our local Children's Medical Services office.
For more information contact, Patrice Austin at PAustin@tchospice.org and visit the website for additional information and/or donations.
---
Teddy Bears For Kids, Inc. – "Give a child a new friend".  A charity that gives new stuffed Teddy Bears to children in need. In conjunction with the Florida Society of Enrolled Agents (FSEA) the stuffed animals are collected by the 800+ members and brought to the annual convention in June of each year. Last year over 800 bears were collected.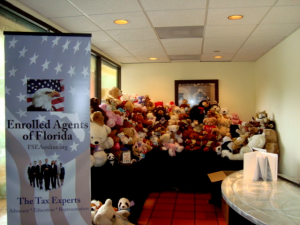 The bears are then taken back to local communities and distributed to hospitals, Kids in Distress, rehab centers or to any organization for children in need. Help to put a smile on a child's face.
SFS takes back as many bags as will fit in the SUV and promptly brings them to the Treasure Coast Hospice. We appreciate any donation of new bEArs or a cash donation to purchase the animals. For your convenince, both SFS offices are  a drop off point for bears or donations. Feel free to drop by and "Help us help a child who needs a new friend".
---
Philippine Basic Outreach Program, Inc. – Is an IRS approved charity that was formed for the purposes of helping poor people living in the Philippines. The Philippine is located 1000 miles below Japan  and over 92 million reside there on over 7000 islands as small as small as a supermarket parking lot to some as large as Florida. For more information visit the website, or to make a donation contact Bruce Wheatly, RN at pbn@philippinebasicneeds.com.
Jollibees is a local restaurant and Bangaw Boys is local term for the street boys. Bangaw is 'flies' and as such when a person leaves Jollibees, it is assumed that have change from paying their bill and all the kids 'swarm' the person all with their hands out. Like flies swarming….
SFS  "adopted" a young boy, now known as "Jeffrey Jr., that needed medical attention, (See the drainage tube). For a small amount of money we were able to help, and we are now providing for food and clothing,
Please help these people that have so much less than you do, with a cash donation or supplies.