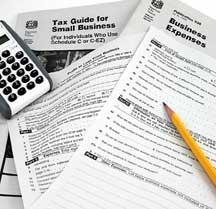 Is Your Bookkeeping A Total Mess? We Can Help.
We know that bookkeeping is one of the biggest problems facing businesses today. Keeping good records can be a nightmare. It can also cause you to lose a lot of hard earned money. It can get you in trouble with the IRS. A lot of businesses just ignore the bookkeeping until a problem arises.   But, it doesn't have to be that way.
If you own a small business and haven't kept up your bookkeeping, don't worry. We can help you.We'll prepare your bookkeeping for the year, your corporate tax return, as well as your personal income tax return.Then we'll help you set up an easy system that allows you to keep your books in great shape going forward.
We can show you the way to stress free record keeping. You just need someone with the proper knowledge to help you on the right path. Think it may cost to much to have a trained tax professional to guide you? Think again. Our services are not only affordable, but we may be able to save you enough money to pay for our services many times over. Just by having the proper system in place.
So don't worry about your bookkeeping, let us handle everything for you, so you can get back to working your business. Call Today 772-337-1040 for Port St Lucie Fl or Royal Palm Beach Fl 561-868-1868