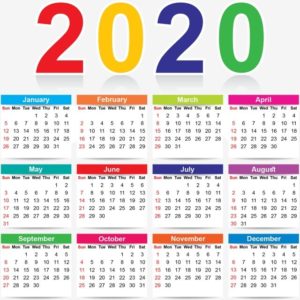 January
15th – Quarterly estimated taxes for the months of October, November, and December 2019 are due
30th – All Employers – Give your employees their copies of Form W2 for 2019. If an employee agreed to receive Form W2 electronically, have it posted on a website and notify the employee of the posting
31st – Individuals who must make estimated tax payments – If you did not pay your last installment of estimated tax by January 15, you may choose (but are not required) to file your income tax return (Form 1040) for 2019 by January 31. Filing your return and paying any tax due by January 31 prevents any penalty for late payment of the last installment. If you cannot file and pay your tax by January 31, file and pay your tax by April 15.
March
16th – S Corporations – File a 2019 calendar year income tax return (Form 1120S) and pay any tax due
16th – Partnerships – File a 2019 calendar year return (Form 1065)
31st – Electronic filing of Forms W2 – File copies of all the Forms W2 you issued for 2019. This due date applies only if you electronically file.
April
TAX RETURNS, FEDERAL TAX PAYMANTS AND IRA/HSA CONTRIBUTIONS EXTENDED TO JULY 15th
June
15th – Individuals – 2nd Quarter 2020 Estimated Tax Payment due
15th – Corporations – 2nd Quarter 2020 Estimated Tax Payment due
July
Tax Day for Tax Year 2019

– Individuals File a 2019 income tax return (Form 1040) and pay any tax due. You can defer federal income tax payments due on April 15, 2020, to July 15, 2020, without penalties and interest, regardless of the amount owed. This deferment applies to all taxpayers, including individuals, trusts and estates, corporations and other non-corporate tax filers as well as those who pay self-employment tax.
15th – Corporations – File a 2019 calendar year income tax return (Form 1120) and pay any tax due
15th – Individuals  – 1st Quarter 2020 Estimated Tax Payment due
15th – C Corporations – 1st Quarter 2020 Estimated Tax Payment due
15th – Last Day to make a 2019 IRA Contribution and HSA Contributions. For 2020, the maximum contribution is $6,000
September
15th – Individuals – 3rd Quarter  2020 Estimated Tax Payment due.
15th – Corporations -3rd Quarter 2020 Estimated Tax Payment due
15th –

Extended Returns Due

– S-Corporations and Partnerships – File a 2019 calendar year income tax return -form 1120S/1065 (extended)
October
15th – Extended Returns Due

– last

day to e-file 2019 Personal Federal Income Tax Returns extended return
December
15th – Corporations – Deposit the 34th quarter of estimated income tax for 2020