SFS Tax & Accounting


---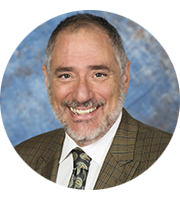 Jeffrey Schneider, EA, CTRS, ACT-E, NTPIF
Author of the Now What Help! series
If you are preparing your own tax return the book is a great guide with complete explanations about the 1040 form.
The third book in the Now What Help series is available on Amazon,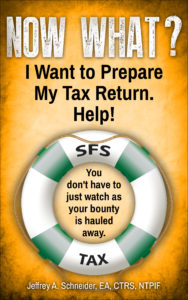 In the World of Tax
Sheltering in Place Activities
Learn About the SBA Disaster Loans – video
Mark Your Calendar
What Are the CARES Act Provisions?
Overview – FFRCA
What To Do If You Received the Dreaded Letter From the IRS
The ABCs of Tax Representation – G is for Garnishment
What Folk Are Saying About US – A Five Star Review
Tax Humor
SHELTERING IN PLACE ACTIVITIES
click on the image to read the blog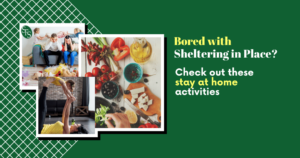 Sheltering in Place can get tedious and old very quickly.
While many of you are home because; they have deemed your business non-essential and may have lost your job. Or you are working from home because of underlying health issues (as I am), or are following the Shelter in Place recommendations (as Marissa is) to stay at home, boredom does sets in.
We have put together a list of resources with activities that may help to fill your time. Marissa, our Office Manager (and daughter) will update the list weekly. If you have any websites, YouTube videos, or suggestions that others might enjoy, please email her at [email protected]@gmail.com, and she will add it to the list. 
---

8th – Passover
12th – Easter
15th – That Sucks Day – is really a holiday
15th – Tax Day – not this year
22nd – National Jelly Bean Day
27th Babe Ruth Day (we needed something baseball)
Visit the website to Check the 2020 Tax Due Dates
WHAT ARE THE CARES ACT PROVISIONS?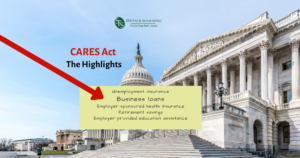 On March 27th, President Trump signed into law the Coronavirus Aid, Relief, and Economic Security (CARES) Act. The Act allocated $350 billion to help small businesses keep workers employed. One section of the bill, known as the Paycheck Protection Program, provides 100% federally guaranteed loans to small businesses.
The Treasury Department has issued updated guidance on this program that I want to share with you:
Loan Terms & Conditions:
Eligible Businesses: All businesses, including non-profits, veterans organizations, tribal concerns, sole proprietorships, self-employed individuals, and independent contractors, with 500 or fewer employees, or no higher than the number of employees set by the SBA as the size standard for specific industries.
Application: Starting April 3, 2020, small businesses and sole proprietorships can apply for and receive loans through existing SBA lenders. Starting April 10, 2020, independent contractors and self-employed individuals can apply for and receive loans through existing SBA lenders.
Loan Size: Loans can be for up to 2.5 months of your average monthly payroll costs from the last year. That amount is subject to a $10 million cap. Payroll costs will be capped at $100,000 annualized for each employee.
Loan Forgiveness: Businesses that maintain payroll continuity from February 15, 2020, through June 30, 2020, as defined by headcount, can request forgiveness on a paycheck protection loan. The money can be used on payroll costs, mortgage interest, rent on a leasing agreement, utility pay, and for borrowers with tipped employees, additional wages paid to those employees, over an 8-week period. Not more than 25% of the forgiven amount may be for non-payroll related expenses.
Additional Features:

Interest rate of 1%
Maturity of 2 years
First payment deferred for six months (though interest accrues)
100% guaranteed by SBA
No collateral
No personal guarantees
No borrower or lender fees payable to SBA
What You Need to Know
The recently passed Families First Coronavirus Response Act makes substantial changes to the sick, and FMLA leave for businesses and employees in 2020. Learn more about the Families First Coronavirus Response Act
Read more SFS blogs
What To Do If You Received the
Dreaded Letter From The IRS The IRS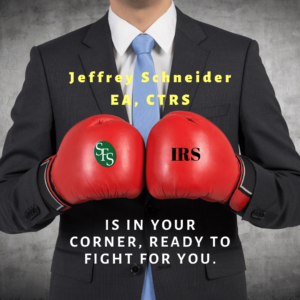 You went to the mailbox and found a letter from the IRS… what do you do? We have created a video to help you understand what you need to do.
When you enter your information you will gain access to a Free Informational Video, "What To Do When You Receive The Dreaded Letter From The IRS" and learn how to end your tax problem forever!
The ABCs of Tax Representation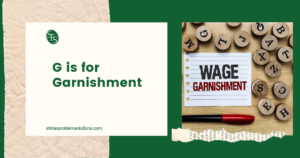 G is for Garnishment
G is for garnishment. Wage garnishment is one of the most common types of garnishment. The IRS can garnish or legally seize any income you make to satisfy federal tax debt or taxes owed. Learn more
What Folks Are Saying About Us…
"Jeffrey is very knowledgeable in his field, He has always fulfilled his professional obligations. I have and will continue to use
and recommend Jeff to anyone requiring an expert in his field."
~Paul Doyle
"The IRS suggests filing early to reduce the chances that someone will steal your identity, and file before you. Honestly, if somebody wants my identity so badly that they'll file my tax return for me, go crazy. You can mow my lawn while you're at it too."
~Jimmy Kimmel
---