Marissa Adler


---
Port St. Lucie Tax Preparer Sentenced for Tax Return Fraud
PORT ST. LUCIE— A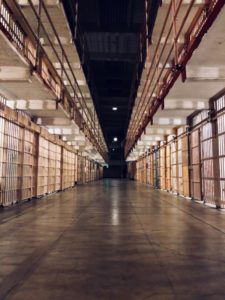 Port St. Lucie tax return preparer was sentenced to seven years in prison and a $267,995 fine from the Internal Revenue Service for not reporting his correct income and for filing false tax returns for his clients.
Richard Maurival prepared tax returns from 2012 through 2015 that inaccurately claimed business expenses and education credits to increase tax returns from the IRS for his clients, according to a press release from the Department of Justice's Southern District of Florida.
Maurival also incorrectly reported his own tax returns and under-reported his income.
Along with the seven years in prison and the fine, Maurival must also have one year of supervised release, according to the press release.
If you or someone you know was a client of Richard Maurival and now have concerns about his work product, we are offering a FREE consultation to review your tax returns. Call us at 772-337-1040 and mention the newsletter.
Taking Early Withdrawals From Individual Retirement Plan Triggers Additional Tax
Taxpayers may need to take money out of their individual retirement account or retirement plan early. However, this can trigger an additional tax on top of other income tax they may owe. Here are a few critical points for taxpayers to know:
Early Withdrawals: Early withdrawal usually is taking cash out of a retirement plan before the taxpayer is 59½ years old.
Additional Tax: The IRS charges a 10 percent penalty on early withdrawals from most qualified retirement plans. There are some exceptions to this rule.
Nontaxable Withdrawals: The additional tax does not apply to nontaxable withdrawals. These include withdrawals of contributions that taxpayers paid tax on before they put them into the retirement plan.
Rollovers are a nontaxable withdrawal: A rollover happens when taxpayers take cash or other assets from one retirement plan and put the money in another plan within 60 days. A rollover can also occur when they direct their plan administrator to make the payment directly to another retirement plan or to an IRA.
Take Steps NOW to Minimize Next Years Tax Bill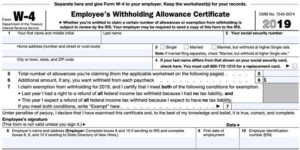 Whether you received a sizable tax refund or had to pay taxes on April 15th, taking action now can ensure your 2020 tax bill is as small as possible.
Update paycheck withholdings and forecast estimated tax payments. Reviewing and updating withholdings now
gives you several months to spread out the tax impact on your daily finances. Adjust your paycheck withholdings using Form W-4 with your employer to either increase or decrease your anticipated refund. If you are self-employed, you can simply adjust your quarterly estimated payments. Other factors will change your 2019 tax liability, but using your 2018 refund or tax bill as a baseline to update withholdings is a significant first step. Just make sure your withholding will cover 90 percent of this year's tax bill, or you may be subject to an underpayment
penalty (110 percent if your income is over $75,000 for singles or $150,000 for married couples).
Organize last year's tax records. Create a folder to hold your completed tax return, supporting schedules and documentation. Organize the file, so it matches the flow of the new Form 1040 — income documents first, followed by deductions, credits, and estimated payments. Doing it this way allows for easy access to your records in the
event of an audit. Once you finish with last year's file, create a checklist of expected documents and a new folder for 2019. This will help you keep track of your tax paperwork during the year and speed up the tax filing process in 2020.
Schedule a tax planning appointment. Midyear tax planning is essential to ensure the proper roadmap is in place to realize your tax goals. Using your 2018 tax return is a good starting point for your plan, but it's not enough. Getting married or divorced, planning for retirement, having or adopting a child, buying a house, paying for college, starting a new job, or getting a raise are just some of the life changes that can dramatically change your tax situation.
Most of us want to forget the headache of tax season as soon as the form is filed, but the shrewd taxpayer uses this time to prepare and plan for a better tax result next year. Please call if you'd like assistance.

This was our first year using SFS to help file our taxes. Jeff and his team proved themselves to be knowledgeable and friendly. They turned our documents around very quickly and were happy to answer any of our (many, many) questions. Would certainly recommend!
~ Alexi Rae Snyder and Jon Poler
The Top Six Things You Need to Know About the Sharing Economy and Your Taxes
From renting spare rooms and vacation homes to car rides or using a bike…name a service, and it's probably available through the sharing economy.
Here are six things taxpayers should know about how the sharing economy might affect their taxes:
1. The activity is taxable. Sharing economy activity is generally taxable. It is taxable even when:
The activity is only part-time
The activity is something the taxpayer does on the side
Payments are in cash
The taxpayer receives an information return – like a Form 1099 or Form W2
2. Some expenses are deductible.
Taxpayers who participate in the sharing economy may be able to deduct certain expenses. For example, a taxpayer who uses their car for business may qualify to claim the standard mileage rate, which is 58 cents per mile for 2019.
3. There are special rules for rentals.
If a taxpayer rents out their home or apartment but also lives in it during the year, special rules generally apply to their taxes.
4. Participants may need to make estimated tax payments.
The U.S. tax system is pay-as-you-go. This means that taxpayers involved in the sharing economy often need to make estimated tax payments during the year. These payments are due on April 15, June 15, Sept. 15 and Jan. 15.
5. There are different ways to pay.
The fastest and easiest way to make estimated tax payments is through IRS Direct Pay. Alternatively, taxpayers can use the Electronic Federal Tax Payment System.
6. Taxpayers should check their withholding.
Taxpayers involved in the sharing economy who are employees at another job can often avoid making estimated tax payments by having more tax withheld from their paychecks. These taxpayers can use the Withholding Calculator on IRS.gov to determine how much tax their employer should withhold. After determining the amount of their withholding, the taxpayer will file Form W-4 with their employer to request the additional withholding.
Information from the IRS Tax Reform Tip 2019-46
"Nobody likes taxes, but they've been around forever. Taxes date back all the way back to the year one when baby Jesus was visited by two wise men and an IRS agent, who demanded half the family's frankincense."
-Jimmy Kimmel
---